Trīs Mazās Māsas - Baltic Comics and Illustration Exhibition
Three Little Sisters, Gallery "Tasty Telpa", Riga, 15.11-30.11.2008
From the 15th until 30th November 2008 in TastyTelpa in Riga took place an exhibition of 17 comics artists and illustrators from the Baltic States. The goal was on one side to display the works of some of the best Baltic artist of the field in Latvia and on the other side also to build up a connection between the artist from this countries, which only from the outside look like close neighbours.
Artists exhibited were: Mārtiņš Zutis, Roberts Galviņš, Oskars Pavlovskis, Krišs Salmanis, Līga Koklače, Ingrīda Pičukāne un Kaspars Groševs from Latvia, Joonas Sildre, Elina Sildre, Kristel Maamägi, Sander Taal from Estonia and Elena Dvoretskaya (Maya), Aiste Mo, Eikantas, Gediminas Šiaulys, Gustė Karkalaitė and Rasa Sabutyte from Lithuania.
Comics Workshop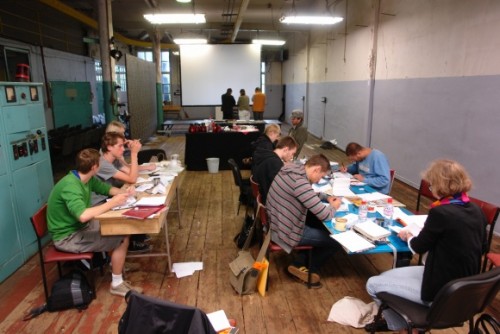 Comics Workshop, 14.,15.06.2008, Andrejsala, Riga
In June 2008 the German Comics artists Henning Wagenbreth and Markus Huber came to Riga to hold a 2-day comics workshop for about 35 Latvian participants from several art fields. Event organized in cooperation with the Latvian Centre for Contemporary Art, the Goethe Institute Riga and the Latvian Art Directors Club.
Meta party
kuš! launch party, Meta Cafe, Riga, 22.02.2008
Launch of the Food kuš! with music by DJ Elvi and Yannick Freund, animation film screenings and a collective comics drawing.
König Lü.Q. exhibition
König Lü.Q. Exhibition, Restaurant Lasite, Riga, 08.05-07.06.2008
On the 8th of May 2008 was the opening of the Comics exhibition of the Swiss stick figure master König Lü.Q. in the royal bar Lasite in Riga. In the same time was the release of a collection of König Lü.Q.'s Comics in Latvian with the title "telefoniste". Two days later was a comics jam with Lü.Q. and Latvian artists which resulted in yet another fanzine.
HERE you can see a video from the Latvian daily Diena about the opening event.