Komiksu Konkurss 2015 ir izsludināts! Uzzini šī gada tēmu un noteikumus: http://www.komikss.lv/konkurss/
(Comics competition for Latvian authors)
š! #21 'Business Time' out now
The newest š! comics anthology is dedicated to business. All 20 contributors got up early, put on their nicest ties and provided their most innovative stories for š! #21 'Business Time'. You can order it now, it is out since May 1st, 2015

Cover: Brecht Vandenbroucke (Belgium) Contributors: Ann Pajuväli (Estonia), Anna Haifisch (Germany), Anna Vaivare (Latvia), Berliac (Argentina), Brecht Vandenbroucke (Belgium), Chris Kuzma (Canada), Disa Wallander (Sweden), Harukichi (Japan), Jeroen Funke (The Netherlands), König Lü.Q. (Switzerland), Lai Tat Tat Wing (Hong Kong), Laura Ķeniņš (Canada/Latvia), Līva Kandevica (Latvia), Lote Vilma Vītiņa (Latvia), Maciej Sieńczyk (Poland), Olive Booger (France), Roope Eronen (Finland), Rūta Briede (Latvia), Sergi Puyol (Spain) and Zane Zlemeša (Latvia).
Support: Latvian State Culture Capital Foundation
Format: A6, 164 pages, full-color, perfect bound, English.
Get it: Order it for $14 from our webshop or in the books section (worldwide shipping included in price). Soon available in selected shops in Riga and around the world.
mini kuš! #30-33 out now!
mini kuš! #30-33, released on March 19th, 2015
Spring is coming and not only the flowers start to bloom, also new comics see the light. We just released four new mini kuš! by a stunning line-up of these international artists: Terhi Ekebom (Finland), Amanda Vähämäki (Finland), Lala Albert (USA) and Marie Jacotey (France)!

- mini kuš! #30 'Logbook ', Terhi Ekebom
- mini kuš! #31 'It's Tuesday, Amanda Vähämäki
- mini kuš! #32, 'R.A.T. ', Lala Albert
- mini kuš! #33, 'BFF', Marie Jacotey

Format of each: A6 (approx. 4" x 6"), 28 pages, stapled, full-color, fully in English

Find out more about each comic in the mini kuš! section and on our blog!
You can order them here all together for $18.00 (just press the button below), or get them individually for $6.00 in the mini kuš! section.
kuš! subscription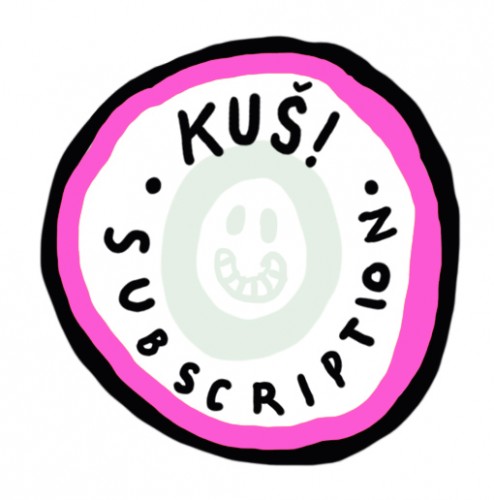 kuš! subscription available!
The kuš! half year subscription includes four titles. You can decide yourself with which issue you'd like to start. In any case you'll get at least 550 pages of full color comics from international artists delivered directly to your house. Check out the offer in our webshop. You can securely pay with paypal or also with your credit card.
Don't forget, this could also be a great gift. So if you order the subscription for someone else, just tell us when checking out.
Thanks to Reinis Petersons for the subscription illustration!