mini kuš! #38-41 are out now!
mini kuš! #38-41, released on March 17, 2016
The comics vary from an incredibly sad war story to a super fun and wild adventure of a young woman, a broad range of stories both fictional and non-fiction and drawn in different styles both digital and hand-drawn! A great bunch of comics for new discoveries!
mini kuš! #38 'Three Sisters' by Ingrīda Pičukāne
mini kuš! #39 'Unwell' by Tara Booth
mini kuš! #40 '1944' by Hanneriina Moisseinen
mini kuš! #41 'EYEZ' by Aisha Franz
Specs: Each book has 28 pages, full color throughout, offset printed locally in Latvia on high quality environmentally friendly Munken paper, saddle stitch binding, handy format DIN A6.

Get them: Order the mini kuš! collection for $19 here or get each mini kuš! separately for $6 (worldwide shipping costs already included in the price!). In case you'd also like to get the following kuš! releases, subscribe here.
š! #24 'Urban Jungle' is out now!
š! #24 'Urban Jungle', released on 23 February 2016
It's time to face up to the unpleasant corners of the city! Twenty-two international artists will take you to some of the darkest spots in the urban jungle.
Cover: Līva Kandevica (Latvia) Contributors: Abraham Díaz (Mexico), Amanda Baeza (Chile/Portugal), Ann Pajuväli (Estonia), Dace Sietiņa (Latvia), Daria Tessler (Finland/USA), Disa Wallander (Sweden), Elīna Brasliņa (Latvia), G. W. Duncanson (USA), Hicham Amrani (France), Jean de Wet (South Africa), König Lü.Q. (Switzerland), Lee Kyutae (South Korea), Līva Kandevica (Latvia), Luke Pearson (U.K.), Mārtiņš Zutis (Latvia), Mathilde Van Gheluwe (Belgium), Sami Aho (Finland), Tara Booth (USA), Tsuchika Nishimura (Japan), Vivianna Maria Stanislavska (Latvia), Ward Zwart (Belgium) and Zane Zlemeša (Latvia).
Support: Latvian State Culture Capital Foundation
Format: A6, 164 pages, full-color, perfect bound, high quality and environmentally friendly Munken paper.
Get it: Order it for $13.99 from our webshop or in the book section (worldwide shipping included in price). Soon available in selected shops in Riga and around the world.
The End of A Fence by Roman Muradov is out now!
We're very happy to announce our first long form book in the new kuš! mono series! The End of A Fence by acclaimed illustrator and author Roman Muradov is out now!
What if we were segregated by compatibility? What if we agreed on everything, from haircuts to philosophy? What if we had no sides to take? What would remain in the middle? Inspired by J.G.Ballard, Ai Weiwei, Jonathan Monk and all the recent horrors in the news. Imagine a community willfully segregated by OkCupidish algorithms… or don't–Roman Muradov did it for you!
ISBN: 978-9934-518-34-8
Format: A6 (10cm x 15 cm / 4" x 6"), 100 pages, full-color, perfect bound. Released in November 2015. Printed in Latvia on FSC certified paper.

Reviews: A.V. Club, Mental Floss
Order: Available here for $14.00 (including world wide shipping costs!) or in our book section, will be shipped on November 20th 2015. Soon available in selected bookshops worldwide.
kuš! subscription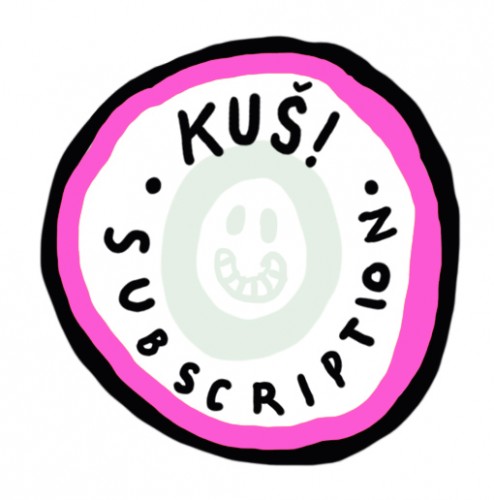 kuš! subscription available!
The kuš! subscription includes four titles. You can decide yourself with which issue you'd like to start. In any case you'll get at least 550 pages of full color comics from international artists delivered directly to your house. Check out the offer in our webshop. You can securely pay with paypal or also with your credit card. $ 52, free Shipping worldwide!
Don't forget, this could also be a great gift. So if you order the subscription for someone else, just tell us when checking out.
Thanks to Reinis Petersons for the subscription illustration!