Comic Workshop with Paul Paetzel
Comic Workshop, Goethe-Institute Riga, 24.02-26.02.2017
Empty houses, abandoned places. They indicate a void, but in the same time they include a vague promise for the future. The comic workshop at the Goethe-Institute Riga with Paul Paetzel is all about creating exiting stories. After an inspiring tour with Marcis Rubenis of Free Riga through empty spaces of the city, Paul Paetzel teaches about narration in comics. Next to inputs about storytelling, he will also teach how to prepare comics in duotone colors. After the workshop the comics will be printed as a riso zine and exhibited at the Goethe Institute from 19 April 2017 and a day later also online.
Millionaires Club 2017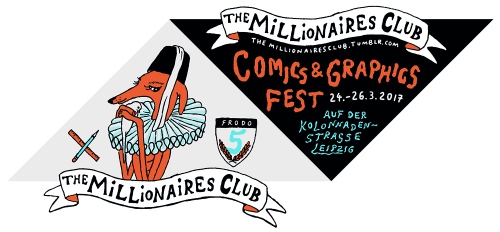 Comic Festival, Leipzig, Germany, 24.-26.03.2017
kuš! joins The Millionaires Club in Leipzig again to present the newest books at this independent comics & graphics festival. kuš! will be represented by it's artist Līva Kandevica, who'll hapily exchange business cards with other millionaires.
Fumetto 2017
Small Press Market, Lucerne, Switzerland, 01.-02.04.2017 and 08.-09.04.2017

kuš! will have a table both weekends at the International Comics Arts Festival Fumetto in Lucerne. kuš! will be represented by it's editor David Schilter and by the artists Markus Häfliger and König Lü.Q..
ELCAF 2017
East London Comics & Arts Festival, The Round Chapel, London 16.-18.06.2017

kuš! will have a booth at ELCAF in London. kuš! will be represented by it's editors David Schilter and Sanita Muižniece.
Animal Collective
Exhibition, CentroCentro, Madrid, 30.09.2016-29.01.2017
kuš! is part of the group exhibition 'Animal Collective' in Madrid, which showcases collectives from all over Europe. kuš! exhibits works by Anna Vaivare, Dace Sietiņa, Dāvis Ozols, Ernests Kļaviņš, Ingrīda Pičukāne, Laura Ķeniņš, Līva Kandevica, Mārtiņš Zutis, Oskars Pavlovskis and Zane Zlemeša.
Reviews: El Diario
ComICS: Creating InterCultural Stories
ComICS, international training course, Latvia, 13.-22.01.2017
International training course to learn how to use comics workshops in intercultural youth work, lead by international trainers and Chilean/Portuguese comic artist Amanda Baeza! Participants from Latvia, Portugal, Poland and Germany can apply. Deadline November 10th. More info here!
Supported by Erasmus+: Youth in Action program
Mazipos
Exhibition, Laborator Visual Kontakt, Bihor, Romania, 09.12.2016-15.01.2017
kuš!, invited by artist Carlos Carmonamedina, co-curated the third edition of MAZIPOS. MAZIPOS is an itinerant poster exhibition, an artist database, a global fanzine. The artists of the third edition are:
Abraham Díaz (MEX), Akvile Magicdust (LTU), Ana Galvañ (SPA), Anna Haifisch (DE), Brecht Vandenbroucke (BE), Dāvis Ozols (LAT), Dunja Janković (CRO), Inés Estrada (MEX), Jean de Wet (ZA), Jesse Jacobs (CAN), José Ja Ja Ja (ES), Lai Tat Tat Wing (HK), Léo Quievreux (FR), Liisa Kruusmägi (EST), Līva Kandevica (LAT), Martín López Lam (PER), Oskars Pavlovskis (LAT), Pixin (SGP), Roope Eronen (FIN), Samplerman (FR), Santa France (LAT), Tara Booth (USA), Ville Kallio (FIN), WÚ (ARG), Zane Zlemeša (LAT)
Photo credit: re:art